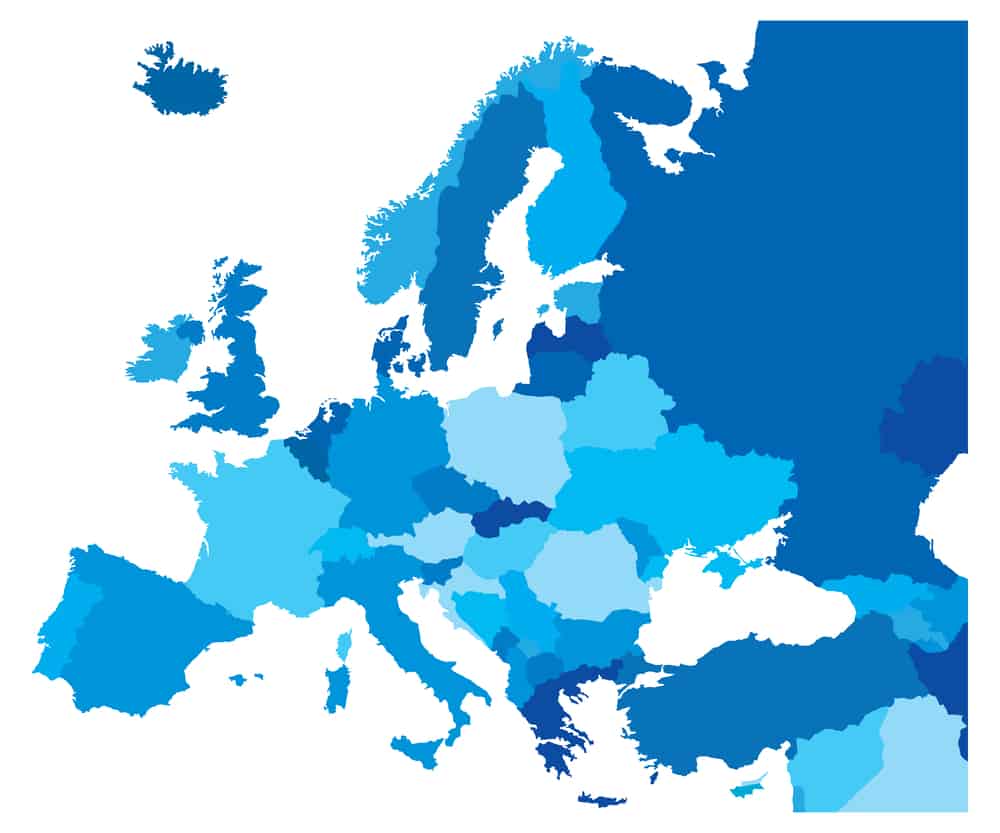 Ship Cars to Europe
Since 1997 and with over twenty years of experience helping clients ship cars overseas, Reindeer Auto Transport has perfected its operation within an extensive network of highly reputable and insured carriers. The result? Top notch service regardless of origin or final destination.  Need to ship your car to europe? No problem. South America? Reindeer Auto's got you covered. Reindeer Auto prides itself on its authentic approach, which is why our motto is "real. personal. service."
How Reindeer Auto Transport Handles Car Shipping
Reindeer Auto provides a comprehensive range of container shipping and transportation options, which include: 
Open & Enclosed Vehicle Carriers. Reindeer Auto has the ability to ship your car either on an open car hauler or in an enclosed carrier. Rest assured, both transport methods are safe and secure!
Let's take a closer look at the pros and cons of each mode of transportation:
Open Vehicle Carriers 
Typically, most customers opt to have their vehicle transported on an open, long-haul carrier.  If you've ever gone on a road trip, then you've likely seen this type of transport as most interstate car moves use this method.
Key Features:
The most common type of car carrier
 Involves a truck typically between 75 and 80 feet in length with the ability to haul a two-level trailer
 No sides or roof on the trailer (so vehicles are exposed to the elements at all times.)
Pros 
Less expensive auto transport option
Better visibility which allows the driver to keep an eye on the vehicles more easily while in transit
More environmentally friendly. The lighter vehicle results in less fuel use than enclosed options
Cons 
Vehicle is exposed to the elements at all times due to the open sides
Less protection against road debris and less secure than a fully enclosed trailer
Enclosed Vehicle Carriers
What if you're relocating a brand new, high-end model, or an antique or collector piece?  In this case, it may be necessary to request a fully enclosed trailer to move your car.  If you're unsure what the best approach is for your vehicle, we'll be happy to give you a run down on the full details of each method so you can make the best decision for your automobile and your relocation type.
Key Features:
A fully enclosed trailer
A roof and four sides
Pros 
Highest level of security
Highly prized autos, antiques, luxury, or expensive sports cars.
Best weather protection and can help avoid exposure to most road debris.
Cons 
Since the vehicle is enclosed, the driver has less ability to make routine inspections during transit
Less fuel efficient than open-air models
More expensive than its open-air counterpart
Domestic & International Car Shipping
Reindeer Auto also provides services to both the usa as well as foreign markets.  The true value of choosing a premier relocation service such as Reindeer, is the ability to choose from a variety of relocation needs, regardless of where the item is now, or where it's headed!
Domestic and international options include:
Air
Rail
Water freight transportation
Logistics & Freight Transportation
Have something on your hands that seems impossible to move? We're willing to bet we can make it happen. When something seems like it may require a feat of heroism, this is where we shine.
Anything outside of the typical automobile transport is classified as an FAK (freight of any kind). No matter how big, or how "wild" a shipment may seem, we like to fire up our second motto, which is roughly: "Every new opportunity is an adventure to be met with professionalism and dedication!"
Some examples of FAK include: 
Boats
Motorcycles
Pods/containers
RVs/campers
Utility trailers
Farm equipment/machinery
Military freight
Honestly, we can move pretty much anything else you can possibly think of. Once we even moved a chicken coop. (Yes, you read that correctly, we shipped a chicken coop!) So, if it's a prized, antique lawn mower or a tree house, we got you covered. Our logistics team has the experience (and the stories) to oversee the evaluation, planning, scheduling and all the other details to move even the most unique items.
Same-Day Pick Up & Delivery
We also offer same-day pick up, as well as same-day delivery for transports under 300 miles. We understand that plans change. Sometimes that one last thing just can't quite fit in the moving van… and so we are here to accommodate your needs for those last-minute, large item transfers. We thrive on these sorts of challenges and strive to offer quick response times and quality service even in a pinch!
Door-to-Door Service
We are happy to arrange door-to-door service for an extra special white glove experience or simply to remove any extra hassle. In some cases, our carriers may not have immediate access to certain neighborhoods or communities. We take all the guesswork and stress out of the delivery by making sure all arrangements are made prior to the transfer in order to best accommodate our customers and ensure a smooth delivery. We are even able to arrange local, open flatbeds to make sure we can guarantee our door-to-door service promise.
Guaranteed Transport Times
Based on transport times, mileage, seasonal demands, and client requirements, we are able to provide a range of guaranteed timelines. We work closely with our team and customers throughout the pre-planning and transportation stages to make sure the anticipated delivery needs are able to be met. We consider it our duty to deliver as promised and stand by our commitment to the highest quality of service at all times.
Snowbird Service
If you're the migratory type we can help you move your boat, car or any other vehicle down in the autumn and then move back north in the spring. Instead of worrying about how to get that convertible to the beach, let us handle it!  We can provide a wide range of transit times and relocation preferences to help regular transitions just another thing to tick off the list.
How to Import Your Vehicle to Europe or Other Destinations
Okay, so now you have a pretty good understanding of the range of services. But what other factors do you need to consider? Of course, you'll definitely want to request a free quote (or use our online quote calculator.)
But here are a few other things you'll want to keep in mind when it comes to the cost to ship your car overseas:
Consider the size of the vehicle. While we ship all sizes and types of vehicles, larger vehicles (e.g., buses, vans, or trailers) simply cost more to ship then smaller ones. Reach out and we can help you determine cost per size.
Keep delivery times in mind. Often, expedited service may include extra fees. You may request expedited car shipping, Same Day Pick Up, or Guaranteed Transport Times, but you'll want to check with a relocation coordinator to see if this service is available in your area.
Assess the vehicle's condition. Older cars or vehicles which are non-operational can be more expensive depending on the labor required to load and haul. The more difficult it is to handle and/or operate a vehicle, the more expensive it tends to be.
Don't forget about international permits, fees and/or taxes. Every country handles their import and export fees differently. While our relocation coordinators can certainly provide detailed information, it's important to understand that certain additional fees may be required depending on the delivery location.
Look for 24/7 tracking: When possible, you'll want to make sure that whatever vendor you choose offers 24/7 tracking via an online auto locator tool. After all, it's precious cargo! Not to mention that having access to your car's location can help save cost and time.
How to Properly Prepare Your Vehicle for Shipping
While we are here to do the heavy lifting, there's quite a few things that the customer should also do to ensure the transport goes as smoothly as possible.
Don't forget to wash your car –  In order to make sure inspection goes quickly, it's best that the vehicle is as spic-and-span as possible. This helps our team ensure a thorough evaluation of the vehicle prior to transporting.  There's no need for a complete detail, as long as it's washed, you should be good to go!
Make sure you have a full tank –  For a domestic relocation the gas tank should be at least a quarter full, but no more than half- full.  If your vehicle is being transported internationally, it's recommended that you keep the gas level below a quarter tank, or it may be rejected.
Note: Keep in mind, carriers will sometimes have to drive your vehicle which may result in some additional mileage.
Watch out for those antennas –  All external antennas should be lowered and/or removed, including temporary antennas.
Have a spare set of keys –  It is a requirement of The US Department of Transportation (DOT) requires the carrier that one set of keys for all entry points (including the ignition, trunk and glove box keys) is provided.  If the vehicle can be accessed without a remote, please remove any remote or key fob from the key chain that is provided to the carrier.
Shut off alarms – All alarms should be shut off. If there are any special start or disarmament instructions make sure to notify your carrier. On occasion, failure to communicate these kinds of instructions can lead to a drained battery which is no picnic for any party involved.
Remove "Stowaways." – Make sure to take out anything that may be stored in your vehicle, including luggage, sports equipment and anything not permanently attached to the vehicle. Please do not pack or leave any personal items inside your vehicle. Unfortunately, we can't be responsible for items such as jewelry, cell phones, clothes, radar detectors, removable radios, sunglasses, EZ Passes, or anything of the like.
Note: Carrying personal property during vehicle transport is prohibited by DOT.  
Additionally, stored personal items can add to the overall weight of your vehicle which could cause damage during transport and added costs.  Inspection may also result in non-compliance and ultimate removal of these items.
Declutter – Any after-factory modifications or accessories added to the car cannot be the carriers' responsibility. This means spoilers, harnesses, air dams, caps, canopies, tonneau covers, camper shells should be removed and shipped with your household goods. This helps protect your vehicle, items themselves, as well as our drivers and the roadway. However, if the accessories must be shipped with your vehicle, we typically recommend that they are bolted to either the truck bed or another portion of the vehicle.
All low-hanging items should be removed to create enough clearance to facilitate loading on the rail and truck ramps.  Tonneau covers must be retracted, rolled, stored and locked if not removed. Because of the DOT guidelines around transporting personal items, any and all items left on the external areas of your vehicle will require an additional waiver to be signed prior to transit.
Pro-tip: Ask your relocation coordinator about specific waivers when scheduling your relocation
How to Properly Prepare Your Vehicle for Shipping
Prep for climate change –To minimize any weather-related damage, make sure your vehicle is prepared for the elements. Prior to pick up, this includes adding:
Coolants
Transmission fluid
Antifreeze
Additional fluids
As good old Ben said, "by failing to prepare, you are preparing to fail." But in our industry, we just simply stand by the fact that the best protection for your car and the smoothest transit and delivery processes involve well-prepped vehicles. So, make sure to consider all climatic changes and fluid issues. If your vehicle is prone to leaking, it's important to communicate that to your carrier.
Double check access – If for any reason your relocation destination is unable to safely accept an 80-foot car, you'll need to contact your transportation coordinator to plan for both a pickup and drop off location that are tractor-trailer accessible.
Note pick up/delivery times. Typically, Reindeer Auto pics up Monday – Saturday between 8-5 and we deliver every day of the week during daylight hours. Each of our drivers will call prior to pick up and delivery to set up the specific times with you.
Vehicle Prep Checklist  –
When in doubt, here's a handy checklist to make sure you really have it all covered:
Automobiles must be operable. If not, additional fees or methods may apply
Provide an active phone number where you can be reached throughout the automobile relocation process
Please advise relocation specialist of any modifications made to automobile
For example: 4×4 lift kit, camper shell, lower clearance; spoilers, fairing, air dams, and/or other low hanging items should be removed, or sufficient clearance must be assured to facilitate loading on the rail and truck ramps.
Any damage caused by a low-hanging item hanging up, catching on, or scraping on the rail and truck ramps will be denied. 
Automobiles cannot have any obvious fluid leaks. For positioning purposes, please notify our office of any known or potential fluid leaks.
Automobile cannot exceed seven feet in height and must have a minimum of four-inch ground clearance to safely load and unload
Driver side door and window must work properly
Automobiles must have working brakes (A manual transmission automobile must also have a working emergency brake.)
Battery must be secure in the mounting bracket
All exterior spare tire covers, grill covers, or car covers must be removed

About Our Team
We are based in Indiana. As an international car shipping expert, Reindeer Auto provides shipping across the United States and beyond.