Shipping to/from Canada
How does shipping cars from Canada work?
Ship Cars from Canada to U.S.
With the impacts of the lockdown, now, more so than ever, people are making big moves. With the flexibility of remote work and the shuttering of hotels around the world, for many, getting a change of scenery has moved beyond a vacation. It seems the next best thing is packing up and trying on a whole new city, state, or even country on for size.
Each year, thousands of people move from Canada to the U.S., sometimes permanently, and sometimes for part of the year. So, if you're considering a move from the Great White North, one of the things you'll need to consider is how to ship cars from canada to us.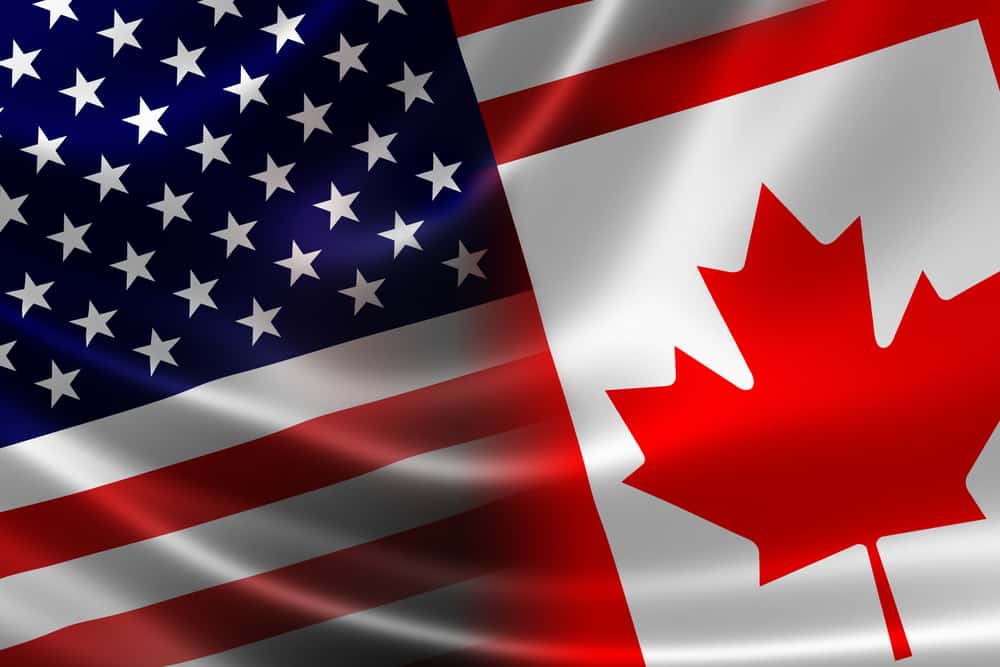 Step 1 | Make sure your vehicle is authorized. If your car is a model not sold in the U.S., it's best to make sure it's approved for transport. You can do this by cross-checking the Overview of EPA Import
Requirements for Vehicles and Engines.
The Overview of EPA primarily assesses if a vehicle and/or manufacturer:
is a U.S. version vehicle
meets conformity with federal emission requirements
conforms to all EPA regulations.
Typically, the manufacturer attaches a label in the engine compartment that states, in English, the intended use. A vehicle lacking the EPA emission compliance engine, vehicle, or equipment manufacturer, model and serial label is considered non-complying.
Pro-tip: If the VIN number begins between 1 and 5 , then it is built in North America. While this is a general rule (some antiques or custom-made vehicles may not have this) it is typically a good rule of thumb.
For car buffs, mechanics and tinkerers, it's also important to note that if a vehicle originally manufactured as a U.S. version vehicle that has since been modified or altered, it will likely not meet U.S. emission requirements. For example, if the engine has been altered or outfitted with another type of engine, the vehicle will not be considered a usa version.
However, a modified or altered vehicle may be conditionally imported as a U.S. version pending
repair and restoration. As an importer, you must file an EPA Form 3520-1 with Customs on entry and
declare code "F" on the form. You will then be required to post a bond with Customs. The importer has 120 days to demonstrate to EPA that the vehicle has been repaired or restored to its original configuration.
If you're uncertain that the engine or build meets requirements you may submit alternative proof, which is a written statement including the number, engine family name, and/or type of equipment and build date (if known).
The EPA does not accept:
Passing a state inspection test as proof. State inspection tests do not determine conformity with Federal emission standards.
Catalytic converter as proof. The presence of a catalytic converter does not mean the vehicle is a U.S. version, or that it meets Federal emission standards.
Here's a helpful checklist to help make sure your vehicle is authorized for transport:
Manufacture date
Model year, make, and model of vehicle
Whether the vehicle conforms to U.S. emissions requirements
If a catalytic converter was present at time of manufacture
Type of fuel the vehicle uses
Vehicle weight for trucks
Step 2 | Contact a relocation specialist.  With a move from Canada to the US you could opt to transport yourself; however, the plus about hiring a specialist is that they are able to take care of all the paperwork for you. An auto transport specialist can also provide a wide variety of options, whether it be air, rail or water freight transportation while helping to arrange and/or support other specialized shipping needs including:
Choosing between open or enclosed vehicle carriers
Handling logistics
Providing freight transportation support for atypical vehicle or shipment types (e.g. boats, motorcycles, RVs, trailers, etc)
Door-to-door service
Snowbird service
Step 3 | Complete paperwork. We'll go into a bit more detail on what this entails in just a moment; however, it's important to note that all customs paperwork must be completed and approved prior to transport.
Step 4 | Prepare Your Vehicle. A transport specialist can help you do the heavy lifting, but there's a number of things you can do on your end  to make sure the transport goes smoothly.
Wash your car.  This helps inspection go faster so your car can get to where it's going more quickly as well!
Fill her up.  For international transportation, it's recommended that you keep the gas level below a quarter tank, or it may be rejected.
Provide a  spare set of keys.  It is a requirement of The US Department of Transportation (DOT) requires the carrier that one set of keys for all entry points (including the ignition, trunk and glove box keys) is provided.  If the vehicle can be accessed without a remote, please remove any remote or key fob from the key chain that is provided to the carrier.
Shut off alarms.  All alarms should be shut off. If there are any special start or disarmament instructions make sure to notify your carrier. On occasion, failure to communicate these kinds of instructions can lead to a drained battery which is no picnic for any party involved.
Remove extra items.  Storing personal items may  result in non-compliance and ultimate removal of these items during inspection unless additional forms have been filed. Personal items can add to the overall weight of your vehicle which could cause damage or added fees.
Prep for climate change. To minimize any weather-related damage, make sure your vehicle is prepared for the elements. Prior to pick up, this includes adding coolants, transmission fluids, antifreeze, or additional fluids.
Step 5| Pickup & Inspection. Once your vehicle has been picked up by a car courier it will undergo inspection at the specified location for your region.
Step 6 | Transport & Delivery. Once your vehicle has passed inspection it will be on its way!
How much does it cost to transport a car?
Cost is dependent on several factors, which typically include:
 Mileage
Vehicle size
Delivery location
When bringing in a vehicle to the United States from Canada there may be additional fees or taxes there are associated with importing, but these often vary.
What type of paperwork is involved?
3299 Entry Form.  This is the form you'll use if a vehicle from Canada that is going to be in the U.S. for equal to or less than 12 months, such as snowbirds or those with short-term Visas. Cars with this type of entry form are  not allowed to be traded or sold within the United States border; however they can still be either sold or traded while on Canadian land. This form also requires that the vehicle includes registration within the United States.
3299 Form Requirements:
Make sure to print your name as it appears on your passport.
Include your  date of birth as well as the date you personally will arrive in the United States.
Finally, add your US home address and contact phone number.
No PO Boxes are accepted. If you don't have a home address, leave this portion blank.
For snowbirds: When you return to Canada make sure to bring a copy of a completed CBSA Form E-24 Personal Exemption CBSA Declaration. This should list all of the items being driven back in your car. You should also bring along a copy of the completed Form E-15 when your vehicle initially entered the U.S.
Pro-tip: Keep the original copy of Form E-15 to present at airport Customs which details items that will follow separately.
7501 Entry Form.  This is the form you'll use for vehicles originating from Canada that are being brought across the United States border for over a year. These vehicles will be registered as a United States vehicle for the duration of their stay. (It's important to note that you will not be allowed to register the car with the Department of Motor Vehicles until you are able to receive the formal import form)
You will also file for 7501 Form if:
A car from the United States was transported to Canada and the title from the United States was given up during the transport process and will now be returning to the U.S., the  car will then have to be re-titled and re-registered within the United States.
 A vehicle titled in the United States has switched owners in Canada and the new owner of the car is transporting the car back to the United States with proof of the original United States title.
E-15 Form. Be sure to complete a Canada Border Services Agency (CBSA) Form E-15 Certificate of Destruction/Exportation. This should be a complete and  accurate list of all of your personal items. If you fail to complete this form you may have to pay duty and taxes on personal items when you return to Canada.
Official identification. You will need a copy of your passport or a copy of your driver's license and birth certificate.
Proof of ownership. A copy of vehicle ownership
Car Courier letter.  An official letter will also be required proving that the courier you have chosen has permission to transport the automobile across the border.

Serving the US, Canada
& International locations
Reindeer Auto makes your
vehicle relocation easy